Meet October's "IT" List!
Some of our favorite words: New Arrivals! A brand new collection just launched and we are so excited to share with you our top 5 picks!
It's starting to get cooler which means we can finally reach for our new favorite scarf, the St. Germain! With a subdued gray color and baby fringe, you can't go wrong. As the softest scarf we've ever felt, this is one fall staple we won't be without.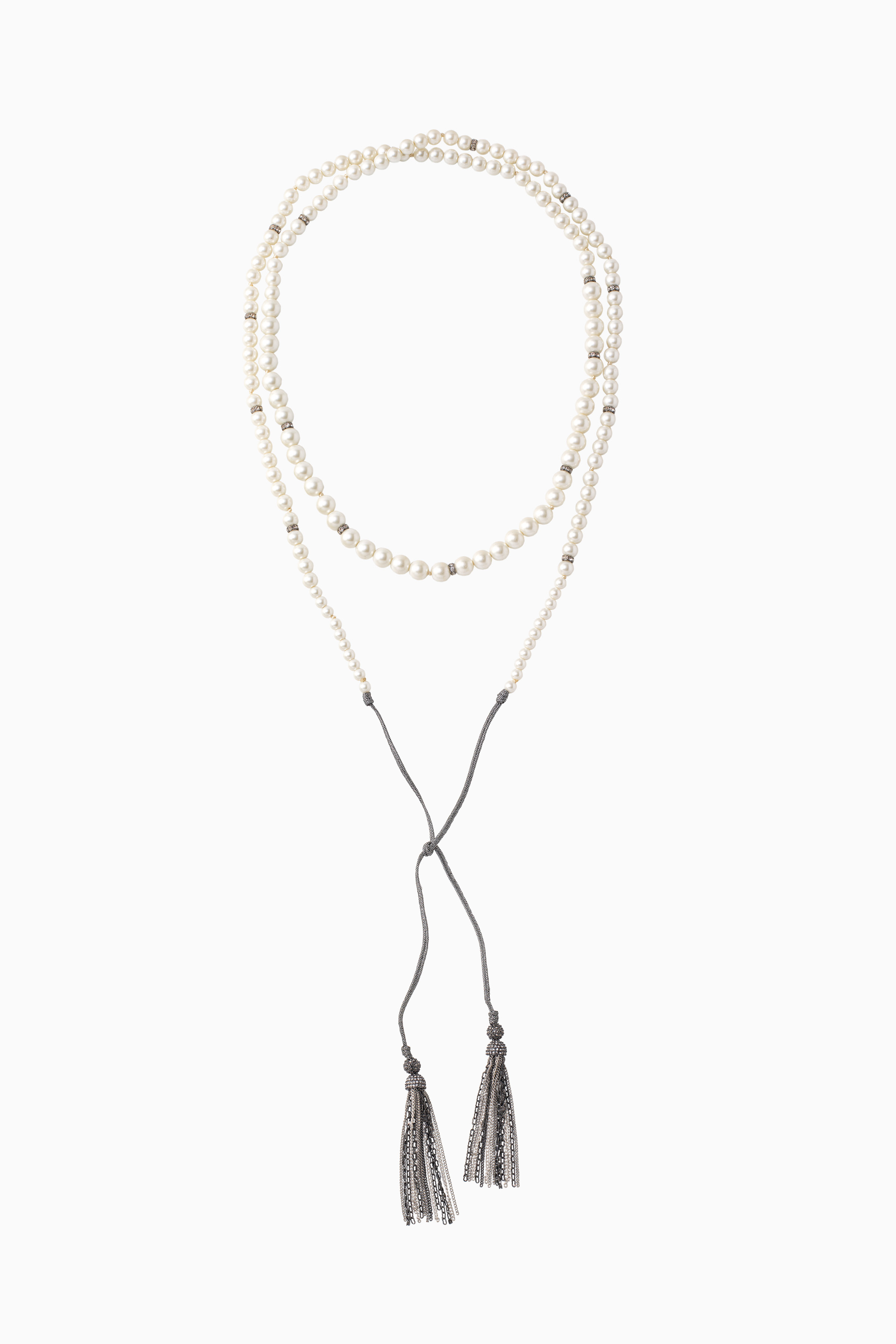 2. The Mara Pearl Necklace
We'd like to welcome The Mara to the party! This little beauty can be worn so many different ways, it's sure to take you wherever you need to go like to work, to drinks, and even to party. You can wrap it around a few times for a chic choker look, or wear it longer down the front. You can even tie it in a bow for a super sweet touch.
Remember the printed Sophie that made it's debut last month? Well this is her older sister. The Sophie in black is such a classic wardrobe staple because it's really like a blank canvas. You can wear just about any kind of accessory with it and you will always be on trend. Pair it with a statement necklace like pictured to the left for a bolder look, or pair it down with delicate layers. The slightly sheer sleeve is perfect for to day-to-night dressing.
This clutch pretty much speaks for itself! It's so genius with the double-sided sequins, so if you decide to not be so flashy, you can smooth all of them to the matte side. And then when you are ready to jazz it up, simply swipe up to reveal the shiny side! Voila! Your perfect party bag ;)
5. The Cameron Charm Choker
Have you heard that we did a fabulous little collaboration with Rebecca Minkoff?! This little charm choker is our favorite piece from the collection, and we can quickly see it becoming one of our everyday outfit staples. It's got all the things that every trendy gal needs -- a little pave, it's delicate, and it has a few amazing charms -- like our fave the Hamsa, and even a little Protective Eye. Trust us, you'll love it!
Connect with your stylists to see all of these fabulous pieces and more at a trunk show now!